Record the screen, remove the excess in the context menu, and more – pump Windows with third-party utilities!
Every year Windows 10 improves and improves thanks to regular and frequent updates. Microsoft's system utilities are slowly gaining functionality that was previously only available in third-party software, but some things still require the installation of additional applications. This article contains 8 useful applications that correct the system's flaws and make it much more convenient.
PowerToys – a set of small utilities from Microsoft
Microsoft PowerToys is a set of useful tools from Microsoft itself, designed to expand the system's functionality. The history of apps dates back to Windows 95, but the project was later abandoned. At the end of 2019, the company re-released PowerToys under Windows 10, and since then, the utilities have been in active development.
Here are the most useful of all PowerToys utilities:
ColorPicker is a pipette that uses it to color at any point on the screen;
Fancy-and-like windows are created like Windows Snap;
FileExplorer – adds previews for -svg and -md files;
ImageResizer – allows you to change the size of photos through a contextual menu;
KeyboardManager lets you create your own shortcuts;
PowerRename – allows you to rename multiple files;
PowerToys Run is a search reminiscent of Spotlight for macOS (first photo).
GitHub (free)
Open Hardware Monitor – System load monitoring
It's a free utility that allows you to monitor the load of different components of the system. It can be used to see the temperature of the CPU cores, graphics card, motherboards, and storage devices. In addition, the application can collect data on the speed of coolers, voltages and show free space on the drives. You can also get the information directly into the Windows system tray.
Official website (free)
O'O ShutUp10 – disabling Windows surveillance
Built-in system tools can turn off telemetry, but firstly, it is inconvenient, and in the case of the registry editor – even dangerous. O'O ShutUp10 is a small utility that lets you control the amount of data you collect in Windows 10. The app is portable and does not require installation. For those who don't want to read into this number of settings, you can apply the recommended settings that disable only those components that will not affect the system's functionality. The app also has the option to return the default settings if you wish.
What shutUp10 O'O can do:
Disable sending of diagnostic data
Turn on or off Windows updates
Manage location services
Set up security settings
disable data collection to personalize products.
Official website (free)
MiniTool Partition Wizard – the best free disc manager
It's a powerful hard drive section manager that is easy to use and doesn't require a reboot to perform some actions, unlike other free apps.
MiniTool Partition Wizard features:
Creating, deleting, combining, and changing the size of primary and logical drives
Checking HDD for "bit" sectors;
Moving the OS from HDD to SSD
Making a copy of the disk
Converting a disk from MBR to GPT and vice versa
Copying sections, converting them to the main section.
FAT conversion to NTFS;
Hiding sections
RAID support.
Official website (free for home use)
ShareX – screen recording and beautiful screenshots
ShareX is a great multifunctional free app that lets you take screenshots and even record the screen. In addition, the app has its own built-in photo editor, as well as the function of automatically uploading screenshots to the cloud.
What ShareX can do:
Record the screen in a video or GIF
Take long screenshots
automatically upload screenshots to the cloud, edit them, and automatically superimpose effects.
Official website (free)
Equalizer APO – powerful equalizer
The Equalizer APO is an advanced open-source equalizer for Windows that significantly improves sound quality and works throughout the system.
Features of Equalizer APO:
Unlimited filters
Very low delay
A small load on the processor
31-band equaliser;
support for third-party VST plug-ins.
Official website (free)
Easy Context Menu – Setting up a contextual menu
Context menus are an important and integral part of the operating system. It's hard to imagine using Windows 10 without it. But over time, the number of points in it increases and increases due to the installation of various applications that add their buttons. Easy Context Menu allows you to remove the excess without the need to work with the registry. In addition, the utility can add items, such as blocking access to the network by a firewall and others. Also, the application does not require installation and is translated into Russian.
Official website (free)
WinXCorners – Active Corners for Windows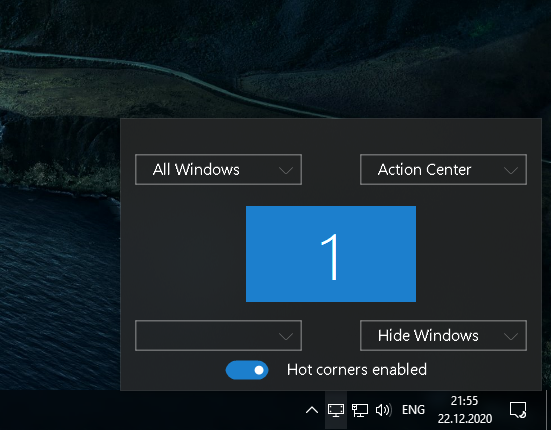 This tool is sure to be useful to people who have recently switched from Linux or macOS to Windows. WinXCorners also transfers active angles to Microsoft's operating system. For those who don't know, this feature allows you to do various things, like opening a notification center, displaying your desktop, and the like, hovering over a certain corner of the screen.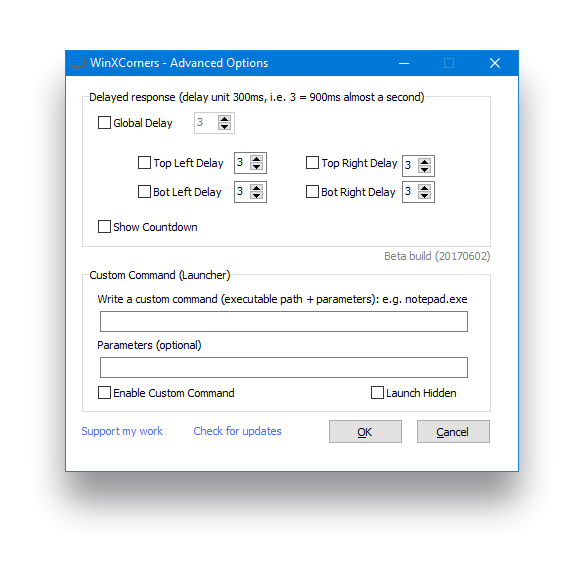 GitHub (free)